Homeowners who love the idea of a beautiful yard but do not want to live with the constant upkeep can now look forward to many years of carefree outdoor enjoyment with a convenient and cost-effective landscaping solution: artificial turf. But just how many years are we talking about anyway?
The average length of time synthetic grass lasts is approximately 10 to 20 years. The lifespan, however, will depend on the amount of foot traffic your lawn receives, the type and brand of artificial turf, and generally how well you maintain your turf over the years, if at all.
With that in mind, let's take a look at some of the factors that can significantly affect the lifespan of your synthetic turf.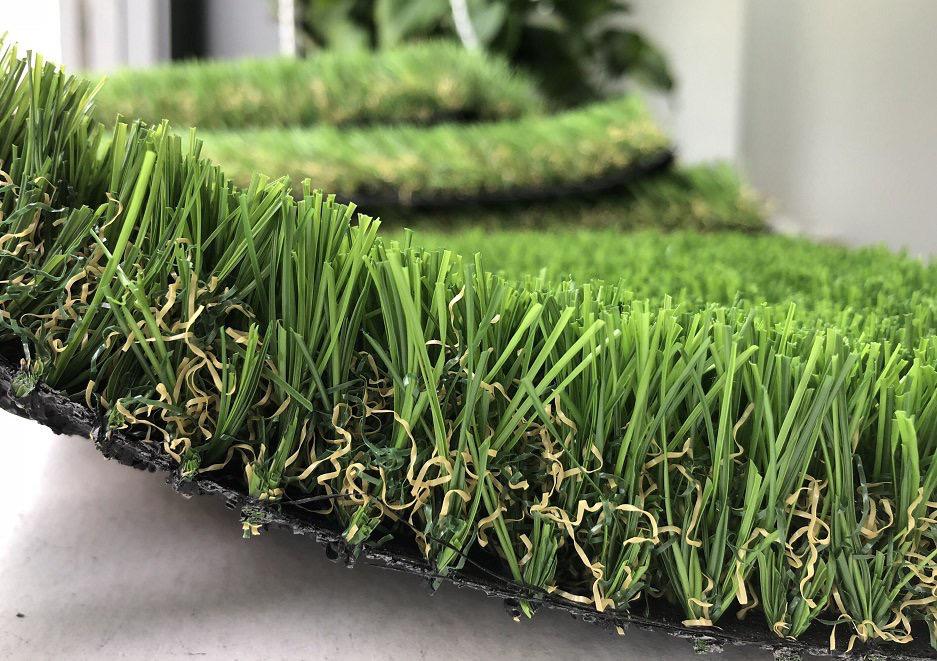 1. THE QUALITY OF GRASS
The material is arguably the most crucial variable to consider when you are trying to estimate how long your synthetic grass will last.
For example, artificial grass made of basic quality plastic cannot hold too well under extreme weather changes. It may get damaged and start fading away within just a year or two. On the other hand, artificial grass made of synthetic plastics (such as nylon or polypropylene) is resilient and durable. These materials are highly resistant to the grueling summer heat as well as the coldest, snowy winters. They are also pretty much stain-proof. This allows high-quality artificial grass to look and feel as beautiful and green as possible, and for as long as possible.
So, if you want to extend the lifespan make sure you are purchasing the highest quality products.
2. THE QUALITY OF INSTALLATION
The quality of installation also plays a vital role in extending the lifespan of your artificial grass. After all, with the right installation, your artificial turf is less likely to suffer from poor drainage, weed growth, and plant-based damage.
Hiring experienced professionals will make sure that your artificial turf is installed correctly. They can also provide important advice about the turf that will work best for you and your unique needs and high-quality materials that you may not have access to otherwise. Expert turf installation will also ensure that you have the proper infill installed with your artificial turf, improving the chances that your lawn will last for many years to come.
3. PROPER MAINTENANCE
One of the best qualities of artificial grass is that it tends to require minimal care. As soon as your artificial grass is installed, you can bid farewell to mowing, fertilizing, or re-sodding, and other tedious tasks that go hand in hand with the upkeep of a natural grass lawn. That being said, you should still look after your synthetic turf if you want it keep it looking as perfect as the day it was installed.
Depending on where your turf is installed (e.g., full sun, under several large trees, etc.), your artificial turf may benefit from a little maintenance. Fortunately, up-keeping your synthetic grass over the years doesn't require much more than raking or blowing leaves off your lawn and perhaps using the hose every now and then to wash away smaller particles of debris. Removing twigs, fallen branches, and small berries or pinecones from your artificial lawn is also recommended.
How Do You Clean It?
If you're want to learn more about how to maintain artificial grass to keep your synthetic grass looking its best and to get the most enjoyment out of your investment, you will need to perform regular cleaning and maintenance.
4. HEAVY USE
It likely comes as no surprise that heavy use will wear down your artificial lawn faster than average use. Turf used in sporting arenas, perhaps the most aggressive use of synthetic turf, lasts about ten years, nearly half the time it would likely last in a residential home with average use. If your turf will be used as a dog run or with frequent use from kids at home, you may need to make sure that you're keeping up with the light maintenance required to keep your turf looking great.
5. WEATHER EFFECTS
Artificial grass is perfect in any weather, and a lower-cost solution for those in warm climates seeking to reduce their water bills. Too much direct sunlight can reduce the longevity of an artificial lawn in lower-quality turf installations. Make sure that you're contacting your local turf experts to choose materials that will withstand plenty of sun and heat in the warmer months, as discoloration is less of an issue with high-quality materials.
HOME USES OF ARTIFICIAL TURF
Are you ready to transform your home? Believe it or not, a beautiful lush green lawn year-round is only a conversation away and the process is easier then you think.
The benefits are immediate and long-lasting. Best of all you'll get to enjoy a beautiful rich green lawn year-round. In no time you'll be saving money, time, and water, but in addition to our artificial grass it holds up against the toughest wear and tear. Our versatile synthetic turf is made to last and engineered to perform. Start experiencing the benefits today!
COMMERCIAL ARTIFICIAL TURF
Using artificial turf is not limited to lawns and backyards. If you are attempting to make a space, or in control of a municipal sports complex, this turf is a great idea. You will eliminate the need to have a crew deal with the lawn care maintenance of your field or diamond.
In a commercial sense, asking how long does artificial turf last makes a lot of sense. Even in the most used fields, you can expect that your turf will still stand up for years. This makes the initial cost of the investment much smaller when compared to the cost of maintaining a professional lawn.
IN CONCLUSION
Synthetic grass is so durable and requires so little maintenance that it can pay for itself in less than 10 years. Even so, the particular grass product you choose — with the right maintenance plan — could very well end up serving you beautifully for 20 years, or even longer.
Nothing lasts forever, of course. But if you're looking for a great return on your investment, artificial turf is an excellent choice.
WARRANTY
With our 15-year warranty, you can rest in knowing that we stand behind our premium turfs because we stay up-to-date with all the latest technology in the artificial grass industry.
If any area or portion of the turf substantially changes, as distinguished from a change in texture within fifteen years after its initial installation, Artificial Grass Turf Warehouse will have all such areas or portions replaced, excluding installation costs.
We also warrant that at the time of the initial turf installation, the synthetic turf will be free of manufacturing defects. Slight color changes will occur over the lifetime of this turf and are not considered an issue or basis for a claim. All labor costs involved with the removal of the affected turf and re-installation of the replacement will be the responsibility of the purchaser.